-with bills designed to silence voters of color and young voters.
The Georgia Senate has introduced 9 new voter suppression bills determined to make it difficult to vote by mail or vote in a runoff election.

This unprecedented attack is led by the following Republican Georgia Senators, including our Senator Sheila McNeill, as well as Jeff Mullis, Billy Hickman, Brandon Beach, Bruce Thompson, Butch Miller Larry Walker, III, Max Burns, Steve Gooch and Tyler Harper. Senator Mullis is the proud primary sponsor of seven (7) of these horrendous bills.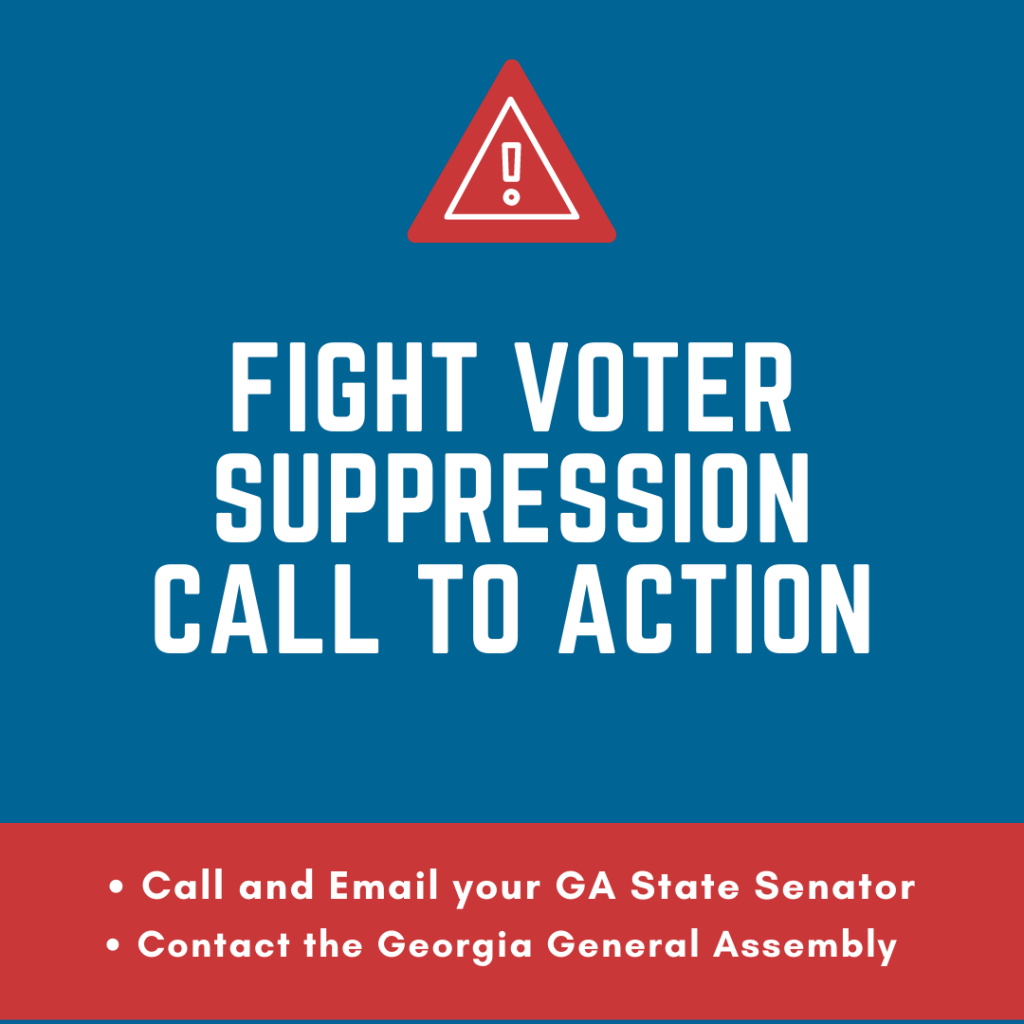 Contact Sheila McNeill
to speak out against Voter Suppression 
(404) 656-9644
sheila.mcneill@senate.ga.gov

Our democracy works best when all eligible voters can participate and have their voices heard. In the General Election 1.3 million Georgians used absentee ballots, resulting in historic voter turnout. No excuse absentee voting provided an opportunity to level the playing field and make voting safer for all Georgians, especially in the midst of a pandemic.
 
This week, GOP State Senators introduced nine bills focused on promoting voter suppression by ending at-will absentee voting and more. These restrictions would suppress voter turnout and disenfranchise thousands of Georgia voters. The most egregious of these bills are:
  SB 29 – Requires two sets of Photo ID to vote absentee
SB 67 – Requires voter ID to request an absentee ballot
SB 68 – Bans all drop boxes
SB 69 – Ends automatic voter registration
SB 70 – Prohibits new Georgia voters from voting in runoff elections
SB 71 – Ends NO-EXCUSE absentee voting
SB 73 – Bans non-profits from mailing absentee ballot applications  

No Excuse Absentee Voting has been around since 2005; Georgia has offered automatic voter registration since 2016. Over 5 million voters have used automatic voter registration since 2016. Our goal should be the protection of the fundamental right to vote for all citizens by assuring that voting is as easy and as convenient as possible. 
 
Please do not stop with our Senator Sheila McNeill, express your concerns to the entire Georgia General Assembly beginning with the following individuals.
 
Governor Brian Kemp: (404) 656-1776
Lt. Governor Geoff Duncan:
 Geoff.Duncan@ltgov.ga.gov or (404) 656-5030
Speaker of the House David Ralston: 
 david.ralston@house.ga.gov or (404) 656-5020
 
Start making calls and sending emails…
Please use the specific language below for both written and verbal communication to legislators other than your Senator. Feel free to use the following website to identify contact information for members of the Georgia General Assembly: https://www.legis.ga.gov

Phone Call Verbiage:
As a voter in your district, I strongly oppose more restrictions on voting. There is no reason for this. I am asking you to vote no on voter suppression bills SB 29 and SB 68 to SB 74.

Email Verbiage:

Dear [Legislator, Role], [Legislator, Full Name] As a Georgia voter, I hope we can count on you by ensuring that our voices are heard. Our democracy works best when all eligible voters can participate and have their voices heard. In the General Election 1.3 million Georgians used absentee ballots. Georgia Republicans are proposing state legislation to end no-excuse absentee balloting. The at-will mail-in voting law has been on the books since 2005 and has been widely used by Republicans. This law provided an opportunity to level the playing field and make voting safer for all Georgians, especially in the midst of a pandemic. This legislative session, elected officials want to put more restrictions on absentee ballots: eliminate the No-Excuse Absentee Ballot, require voters to submit a copy of their Photo I.D. (this may be difficult for many people, especially those in poor communities where printers/copiers may not be accessible) and restrict the use of ballot drop boxes. These restrictions would suppress voter turnout and disenfranchise thousands of Georgia voters. I strongly urge you to oppose all Jim Crow voter suppression attempts and support the current absentee ballot law. Our goal should be the protection of the fundamental right to vote for all citizens by assuring that voting is as easy and as convenient as possible. Your constituent,
[Your Full Name]